A-AAAKey - Yale
In Tulsa, Oklahoma
Tulsa, OK Storage Units on 15th St.
Access Hours
---
Monday - Sunday: 6:00am–9:00pm
Managers
Jazmine Anderson
Crista Burnett
★★★★★
"This place is great! Friendliest customer service I have ever had in Tulsa! Lindy was extremely helpful and made sure I was well taken care of. You can tell a lot about a business when they take such good care of there property and there customers."
Christopher Riffel
★★★★★
"I drive by at least 2 (sometimes more) other storage units before I get to this one on 15th in Tulsa. None of them are as clean and pretty as this one (and that's not just on the outside). The inside is just as nice. I was actually referred by a friend to visit this one and am certainly glad I did. The manager and staff are friendly and I love that each unit is alarmed so always be saif someone triggers something - there is someone onsite to alert me immediatley."
Shandy Rae
★★★★★
"The folks here are wonderful. The Manager is always helpful and friendly even when I call with a simple or a complicated question. When my family member accidently left a lock unlocked on our unit - they called me immediately to let me know so I could lock it. The cameras and gates make me feel secure when I have to work in the unit. I think the prices are good but they have what I needed and wanted so if it's a little more than other areas - I'm ok with that b/c I feel like I AM safe when I"m there and I feel like my stuff is safe as well. Great Piece of mind!! AND service with a smile!"
Ma BF
More Reviews
Simple Storage Solutions in Tulsa

Competitive Rates & Superior Service
When you need a bit of extra space, A-AAAKey - Yale in Tulsa has the unit for your needs. Our onsite management team provides a secure, clean facility to help with:
A Big Move
Expanding Your Business
Climate-Controlled Storage Needs
Our online rental option gives you the flexibility to choose a month-to-month rental, pay online, and use your unit for as long as you need – with your budget and timeline in mind.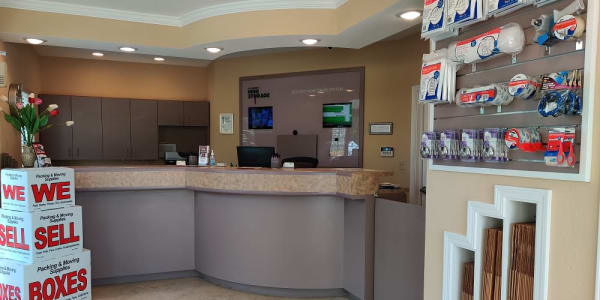 Convenient Storage Options

Features For Your Needs
When you need to make more space in your garage we're here to help. Our ideally located facility in Tulsa, Oklahoma, near U.S. Route 66, is easy to access and features state-of-the-art perks like:
Access 7 Days a Week
Free Dolly Cart Use
Digital Surveillance
Full Line of Packaging/Moving Supplies
Store with confidence at our well-maintained and secure facility near Mid Tulsa. Rent your unit online today or give us a call to choose the ideal unit for your belongings.
Frequently Asked Questions
Are there restrictions on what I can put in a storage unit in Tulsa?
There are some restrictions on what can be placed in a storage unit. We kindly ask that you do not store hazardous materials, explosives, concealed weapons, illegal drugs, contraband, or perishable items such as food.
How much are small storage units in Tulsa?
The two smallest storage unit sizes offered are 5'x5' and 5'x10'. The 5'x5' option is comparable to the size of a regular closet and the 5'x10' option is about the size of a walk-in closet. Some locations have locker units which are 3'x4' or 6'x4'. Visit Key Storage today to find exact prices for these storage options at a location near you!
How much does climate controlled storage cost in Tulsa?
Climate-controlled storage units costs in Tulsa can range in price. Depending on the size of the storage unit and location, prices vary. Visit Key Storage in Tulsa today to find the Climate-controlled storage size and cost perfect for you!
What type of lock do I need for a storage unit in Tulsa?
You can use any lock you would like for a storage unit in Tulsa. Typically, people choose between cylinder locks, disc locks, and closed-shackle padlocks. Here at Key Storage, we sell new high-quality, sealed locks. With your own lock, only you have access to your storage unit and only you would have a key to the lock. Visit Key Storage to learn more.
Reliable Self Storage,

Whenever You Need It.